PARKS' PLUMBING & SEWER Incc.
Smile today.
We're on Our way!!!
Chicagoland's leading flood control specialists
We keep the water running where you want it, and out of where you don't.

40+ years of
service experience

Licensed Team
of Professionals

More than 110,000
happy customers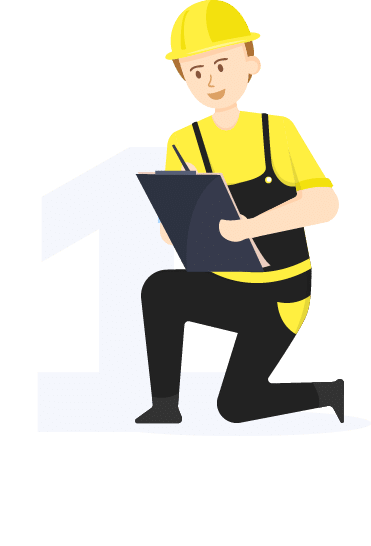 Our professionals will pinpoint the issue and create a detailed analysis of what it is, and how to solve it.
Our team arrives to efficiently and comprehensively carry out the job.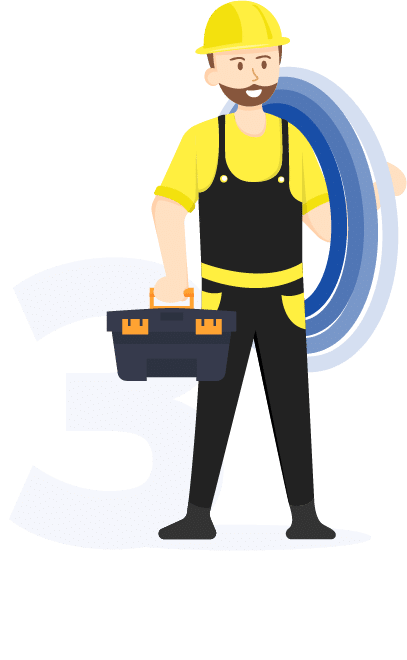 We wrap-up, discuss any possible services that may be needed in the near future, and head on out.  Thanks for choosing Parks' as your local plumber!
In 1981, a young Jeff Parks—the son of a local Skokie plumbing inspector—hit the bricks of Chicago with nothing more than a van and a dream. He wanted to, one day, build a Chicago plumbing company that people wouldn't just want or need, but one they knew they could trust.
Almost half a century later, that dream has built a company. That dream invented our Parks' 'DOUBLE GUARD'™ SYSTEM – a backwater valve flood control system that boasts over 99% success rate after forty years of installation. And that dream has created a place the people of Chicago can go to for honest, trustworthy, hard-working plumbing and sewer So worry no longer, frown no more, and if you give us a call, you can…. SMILE TODAY….WE'RE ON OUR WAY!
Frequently Asked Questions
10 Signs You Should Call A Plumber
Check under your sinks in the house for wet spots, either along the pipes or underneath.
You could have a defective shower valve or pipes with build-up.
Take a close look at your water heater. How old is it? Can you detect rust or corrosion on the water heater or its connection to the pipes? Your water heater might be a ticking time bomb before it starts leaking.  Let's get a professional to look at it before major damage happens or you lose all the hot water at a time you really can't afford to, like a Friday night when you have company staying over for the holiday weekend.  That's something we'd call a "Griswold" scenario.
Spray some soapy water onto the gas shut-off valve by the water heater, or onto other gas pipes you suspect of leaking.  Do you see bubbles?  You might have a gas leak.
Look for wet spots in the crawl space or attic. Leaking pipes often go undetected until they create harmful molds.
Check all of your shut-off valves and hose bibs. Do they turn easily without leaking? Could you shut them off in an emergency? Your valves may need to be fixed or replaced. 
Check your toilet water tanks. Do you see any rust or green build-up? You could be flushing gallons of water down the toilet without knowing.
Turn your water faucets on full power and shut them off quickly. Do you hear a noise or a bang in the pipes? You might have a "water-hammer." A simple device can usually take care of this problem.
Do you know where your main water shut-off valve is? Do you know where your water meter is? Turn off all the water in your house and look at the water meter.  Is it still turning? If the meter is still running, you might have a water leak somewhere that has been going undetected and is costing you.
You might have calcium deposits or other build-up causing your faucet to malfunction. Sometimes the faucet can be rebuilt, other times it will need to be replaced.
Parks' installed drainage pipes from my downspout and sump pump discharge to the storm water sewer in from of my house. They did an excellent job, were very efficient and answered all my questions. I highly recommend Parks' Plumbing and Sewer for any of your plumbing needs.
We have been using Parks for quite some time. We had flood control put in and have them rod out our sewer line regularly...The Parks team was efficient and professional. We didn't even know they had been there they are so neat. Matt was very fair and easy to work with.
I've used Parks for years, both personally and professionally. Every staff member who I've worked with (on-site and admin) has been amazing. Mike has been especially great for our plumbing needs. Highly recommended!
Christina (office) moved up my service appointment to accommodate my schedule. Miguel expertly serviced my flood control & patiently explained the process from beginning to end. Never had such service from original installation company. From now I'm going to call Parks' Plumbing & Sewer!
We would like to commend Parks' and the whole crew for doing a fabulous job installing interior drain tile in our basement. Matt Finegan was wonderful to work with and gave us exactly what we needed to solve our water problem...They really know their business.
I greatly appreciate that Parks' Plumbing sent mechanic Bob to repair our clogged kitchen sink. After 3 days of trying myself, it didn't unclog. When Bob came, it took 25 minutes, and the drain opened up. IT was so amazing and we were so impressed. We highly recommend this company instead of wasting your time. Fee is reasonable as well.
Save On Your Plumbing & Sewer Services
Recommend A Service You Can Trust
*We pay you $100 when you refer someone to us for a new Flood Control System and we get the job
Any Plumbing Service Call*
**Not valid with any other offers or for Clean & Check Service
Your New Yard Drainage System
*Not valid with any other offers.
Pump Battery Backup System
*Not valid with any other offers.
Your New Flood Control System
Featuring Parks' Double Guard®
*Not valid with any other offers.