Chicagoland Drainage Tile Systems: What You Should Know
Drainage tile systems are a network of pipes that channel water away from sensitive interiors and exteriors, like gardens, or certain parts of the basement, and disperse it from the home so it can safely drain out.
There are two major kinds of drainage tile systems: interior, and exterior.
Drainage Tile System Types
Interior Drainage Tile Systems
Interior drainage tile systems are an effective measure to make sure your basement stays dry.  A series of pipes is laid out around the perimeter of the basement and designed so that any water—from leaks, storms, and other sources of overflow—is taken away from vulnerable parts of the home and diverted outside.
Keep in mind, this system may be easier to install in an unfinished basement.  Installing an interior drainage tile system requires excavation, which can take time in basements that are developed and finished/furnished.
Exterior Drainage Tile Systems
Exterior drainage tile systems are larger and more complex than interior systems.
Interior systems are more designed to get rid of water that's already inside the house; exterior drainage tile systems are designed to keep water from ever getting inside in the first place.
Exterior systems are a membrane of piping and drainage tile that catches water before it has a chance to seep into the basement or foundation.  After catching the water, the system brings it out to other parts of the yard or funnels it into the main city sewers.
These systems come in two kinds:
Be Aware: These drainage systems must be installed according to local government codes and regulations, and they have to be designed so that water drainage doesn't diver into someone else's property.  At Parks' Plumbing & Sewer, Inc., we take extra care to inspect each property and determine what drainage system will work best for it.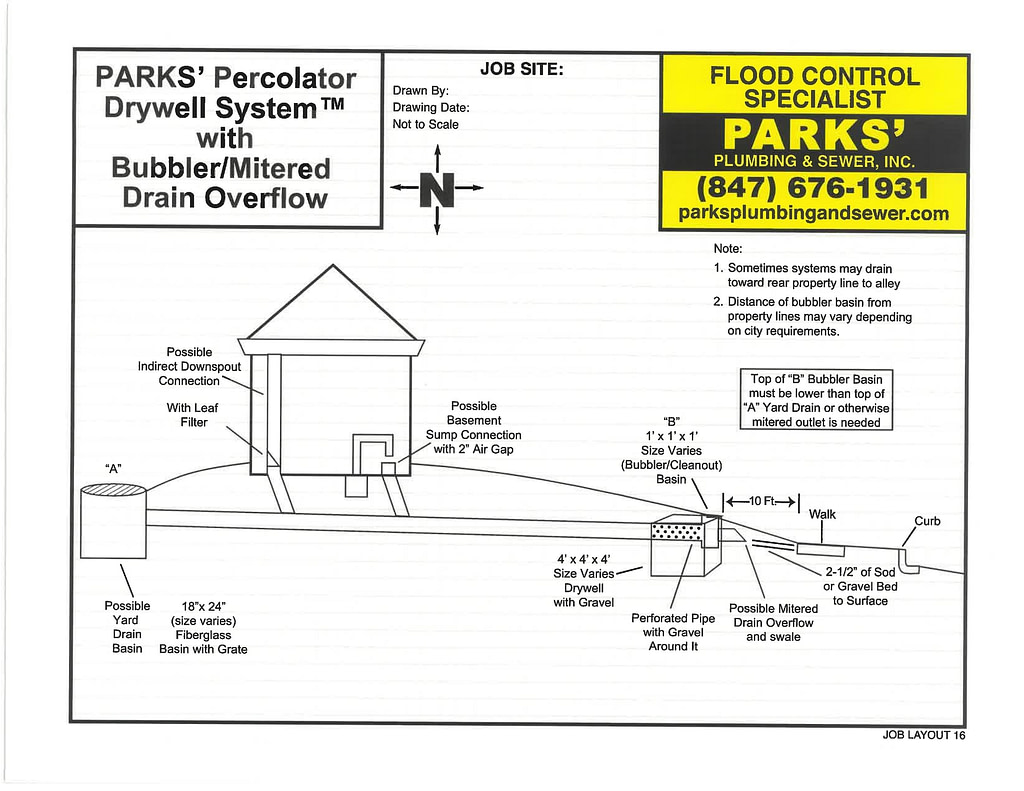 PVC/SDR Pipe.

This is standard piping that is the most common material used for drainage piping.  Both PVC and SDR are plastic, though PVC is white, and SDR is green, and both come with holes to help them pick up water.  PVC and SDR are durable, simple to repair, replace, and install, and their smooth walls make the pipes less likely to clog, too.   

Corrugated Flexible Pipe.

This is piping that is designed with small slits on the sides that allow water to enter from all directions.  These slits also help prevent sand, grit, and soil particles from getting into the water, making the piping valuable as a filter.
Other Services You Might Be Looking For