Water Line Services In Chicago: What You Should Know
"Water lines" is a sort of plumbing industry catch-all term that just means pipes.  It could be the pipes that run from your house to the city sewer line, it could be the pipes that bring up water from the municipal main line and run it through your faucet, it could be the pipes and systems that help keep floods out of your basement when the big summer storm hits.
Obviously, there are a lot of services, big and small, that are related to water lines, many of which are covered in the numerous sections across this site.  But it's important to get a broad sketch sometimes of what forms water lines take, and what might go into installing, fixing, inspecting, and/or repairing them.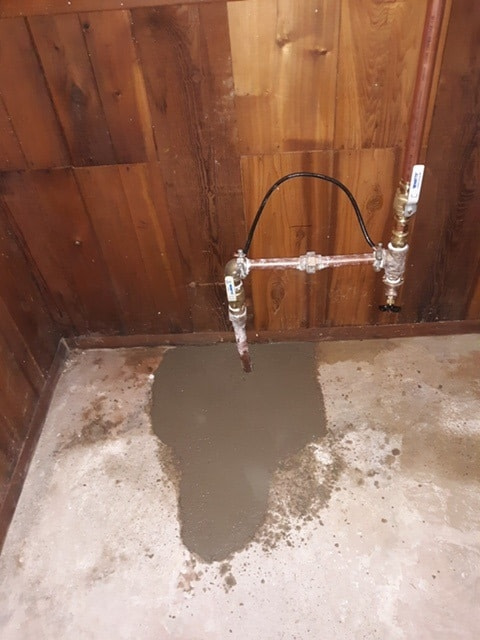 What Kinds of Water Line Services Are there?
There are two big and very different kinds of water lines: water lines and sewer lines.  
Water lines service your home by bringing in and pushing out the water that runs through most of your fixtures, like sinks, faucets, showers, pumps, heaters, and so on. 
Sewer lines are more specialized and focus on your wastewater running from toilets, parts of your yard drainage system, and municipal sewer lines.
Below, you'll find a relative synopsis and breakdown of each, which may help—if you've been having issues with either one—diagnose any plumbing problems and provide you with a bit of guidance and information on what it's going to take to correct the issue.
Keep in mind—there aren't just water lines in residential buildings, but commercial ones too.  These systems are—usually—relatively similar, but there are some clear differences based on their application and scale that can present unique challenges and solutions to each situation.  So it's important to remember what system you're working with, on what kind of property or building, and how that may change the approach to diagnosing and fixing any potential problems.
Water lines run from the municipal mains into your home through metal or plastic piping that feeds clean water to all your favorite fixtures, appliances, and systems.
This can be anything from your kitchen and bathroom sinks, to your washing machine, toilets and refrigerators.
Examples:
From the name alone, it's pretty easy to tell what these lines do.  They're the ones that are responsible for moving wastewater safely and effectively out of your home, and they're also in charge of constantly cycling out the wastewater so that there aren't any toxic or harmful buildups of sewer or gray water during heavy rains
Usually, these lines are pretty robust, because they have to be.  But because of the specialized burden they're expected to bear, when a problem occurs with them, it's a bit more serious and deserves quicker and more intensive attention than certain regular water lines might.
Examples:
Flood Control.

Every home or business requires some kind of flood control system.  This isn't just based on building code, but also on the practical purpose of making sure businesses and homes don't suffer preventable damage during heavy storm seasons.
                          Examples:
Drainage.

An example of these would be the interior and exterior drainage systems set up around a business to keep it free from water damage—especially in downtown areas, where there aren't many places for water to go.
                           Examples:
Related Water Line Services We Offer
Our inspectors are fair, thorough, and experienced.  We'll find the problem, come up with the best way to solve it, and make sure the solution is cost-effective.

We can install, repair, replace, and/or help maintain nearly any fixture or system in the average bathroom..

Sewer lines can become easily obstructed and overtaxed.  Parks' plumbers have been cleaning sewers for over forty years, so we know what it takes to get them unstuck..
Other Services You Might Be Looking For